1990 Saab 900 SPG Turbo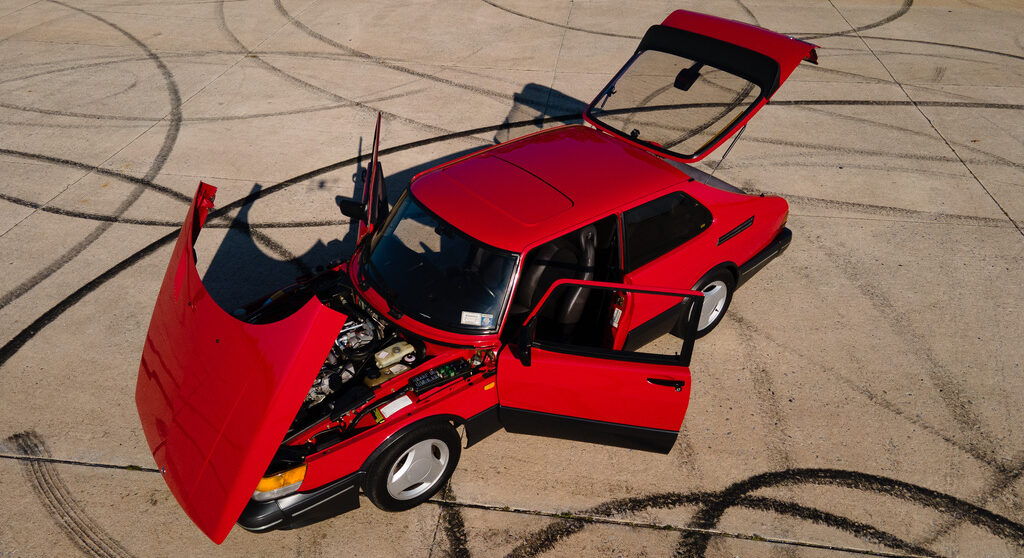 Car History
Rare 30 years ago this 900 SPG is even rarer today as a completely stock, non-abused example. Rust free and with no sun damage to the interior, this car was garaged and cared for by its female owner since 1990.  As such, it has to be one the finest, if not the finest, all original unrestored examples in the country. The car has been polished and fully serviced for the next owner with even the A/C updated and blowing cold!
The 900 Turbo Legacy
When people hear the name Saab, the classic 900 Turbo is usually what comes to mind.  The iconic shape, matched with its high-performance attributes, makes the legendary hatchback stand out in a crowd.  Fast and well made, the 900 turbo evokes nostalgic emotions amongst those who have crossed its path. This SPG (Special Performance Group), is one of 400 Talladega Red sold in the US in 1990, 41 were sold in 1991. The SPG's are the ultimate performance model and the fastest c900 Turbo to come out of the Saab factory.
Vehicle Details:
Year: 1990
Make: Saab
Model: 900 Turbo SPG (Special Performance Group)
VIN #: YS3AL35L0L3001824
Odometer: 102,634 Miles
Exterior Color: Talladega Red
Interior Color: Black / Charcoal Leather
Engine Size: 2.0L Dual-Overhead Cam Turbocharged Inline-Four
Power 175HP / 195Lb-Ft
Transmission: 5 Speed Manual
Drive Train: Front-wheel drive
Title Status: Registered with NY title Location: Brooklyn,NY